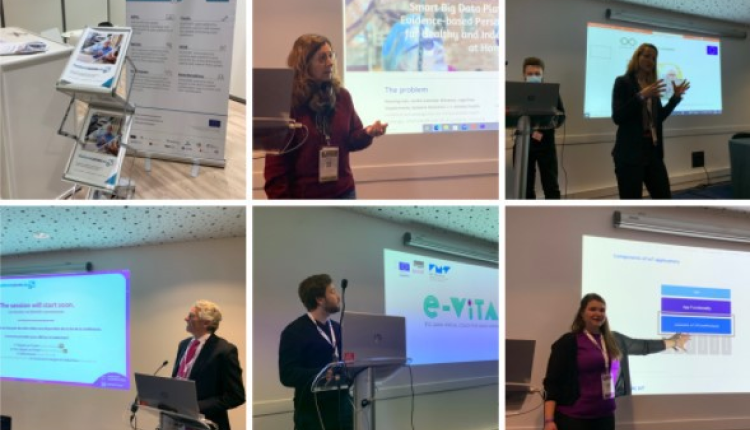 PlatformUptake.eu putting focus on open platforms at major European event on AHA/AAL
PlatformUptake.eu brought "open platforms in AHA/AAL" under the attention at the annual AgeingFit conference which took place early March in Lille, France. AgeingFit is one of the main European events that focuses on the silver economy and ageing well. It brings together every year a wide number of stakeholders from around Europe and further afield, including care providers, industry representatives, EU-funded projects, investors, and many more.
In a session on "The importance of open platforms in technology for ageing and care", moderated by PlatformUptake.eu partner Ad van Berlo from Smart Homes (The Netherlands), Dr. Christoph Klein, Policy Officer at the European Commission, presented some of the current EU initiatives in this field, as well as upcoming calls and funding opportunities. Bart Degryse, Project Manager Care Innovation at the White and Yellow Cross home nursing service in Belgium, shared some of their challenges with the social/personal alarm service and technology they are providing and how an open platform and access to data are important for them. Martijn Schuurmans, CEO of Eurocom Group, presented how they developed and adapted their Open Care Connect platform for home care and nursing home facilities over a period of several years in close collaboration with their customers. Geja Langerveld from ZonMw and Dutch contact point for the AAL Programme, echoed the importance of user involvement and mentioned that this is indeed also something that is heavily focused on within AAL projects. Finally, Luc Nicolas, eHealth Project Officer at EHTEL, showed how Open DEI is looking at "Aligning Reference Architectures, Open Platforms and Large-Scale Pilots in Digitising European Industry" and brings together platforms and projects/pilots to overcome organisational fragmentation and build sustainable solutions. Overall, the session provided useful insights into the successful development, implementation and benefits of open platforms from a platform provider and care provider perspective.
Another PlatformUptake.eu supported session on "Supporting the Uptake of Open Platforms and Solutions for Active and Healthy Ageing (AHA) and Active Assisted Living (AAL)", acted as a networking, learning and brokerage event among various projects, companies and organisations who discussed experiences in the domain of open platforms and solutions for AHA/AAL. Representatives from, among others, universAAL IoT & uCore, PHArA-ON, ICE Information Catalyst, SHAPES, SMART-BEAR, ProKNX, 4MedBox, Gripwise, FICHe & the FIWARE eHealth Accelerator, Open DEI, and e-VITA, presented some of their platform technologies and use cases. Also specific PlatformUptake.eu tools and services – which allow platform providers and other stakeholders to interact and collaborate, and to evaluate the impact and performance of open platforms – were discussed.
The PlatformUptake.eu exhibition stand at AgeingFit allowed us to meet with other participants, and explain them some of the concepts and benefits of open platforms in the domain of AHA and AAL.