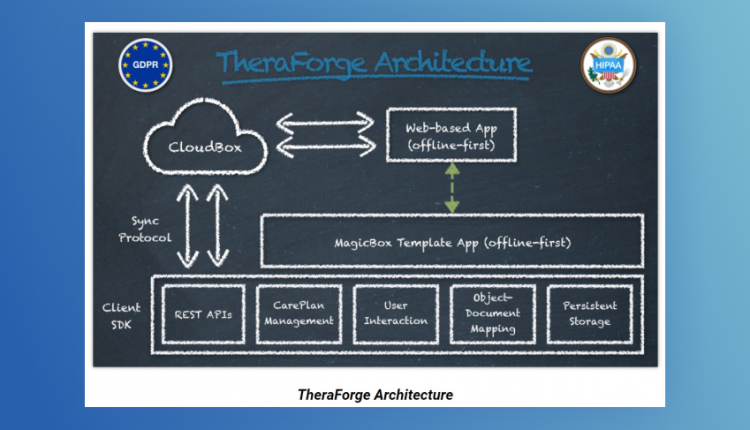 Hippocrates Technologies, The Digital Health Lab Company is pioneering the world's first open digital health laboratory, an innovative enterprise-grade low code solution that aims to speed up and broaden the adoption of professional mobile and cloud-based digital health solutions (BaaS and SaaS) while reducing time to market and infrastructural costs to 1/10.
The open TheraForge digital lab includes a rapid application development (RAD) software development kit (SDK) for advanced offline-first server-less mobile and web-based eHealth solutions, natively supporting wearable devices. Notably, the SDK is geared toward implementing cloud-based virtual care/telehealth solutions that support 100% remote doctor-patient care plan management. It can also be employed to implement digital therapeutics, fitness or wellness apps, and scalable data-driven medical research applications.
Hippocrates Technologies is led by a team of senior technology and digital health experts, inventors and former corporate executives with an outstanding innovation history and an established relationship with local healthcare centers.
Its mission is to help developers save big time and money with rapid prototyping and development tech, so that they can reinvest those savings into their own successful innovation.
Within an interview with Mr Marco Foschiano, who is the CEO of Hippocrates Technologies, PlatformUptake.eu project discussed the role of the company's platform, TheraForge for the development of digital technologies for active and healthy ageing and its benefits for its end users.
According to the interview, TheraForge comprises a set of rapid development tools and services optimized to build cloud-enabled native digital health applications. Its main benefits are the support of highly integrated mobile-native technologies, smartwatch support, integration with wearable devices, accessibility features, offline-first cloud-based synchronization, GDPR- and HIPPA-compliant technologies, serverless cloud development and deployment.
All of these features (and more), as Mr Foschiano claims, make TheraForge a hugely cost- and time-effective solution for the development of professional digital health applications directly from pre-made templates or by using modular enterprise-grade frameworks (i.e., software "lego" blocks).
He continues by stating that applications like telemedicine and digital therapeutic solutions can be used to improve the quality of life for older people and address a number of their issues, including management of age-related and chronic conditions (such as frailty), social inclusion, access to online services, mobility, management of daily activities and care plan. For example, TheraForge is being used to create an app for Parkinson's disease patients who need to manage their daily movement symptoms. Other common use cases include the monitoring and management of frailty, cardiovascular diseases, metabolic disorders, etc.
On the question what the challenges for the uptake of TheraForge are and how PlatformUptake.eu can support his company in the process, the interviewee explained that the main goal of TheraForge is to become an open common reference model for digital app development, as well as a software component marketplace, with the capability of integrating with heterogeneous IoT platforms and devices. PlatformUptake.eu can help bring the necessary stakeholders together to boost platform's integration and interoperability by implementation (not just by design).
At the end of end interview, Mr Foschiano said that he is looking forward to any future matchmaking opportunities, hackathons, or related events and conventions where his company can showcase its disruptive technology.
For more information on the TheraForge platform and collaboration opportunities with Hippocrates Technologies please refer to the company's presentation.