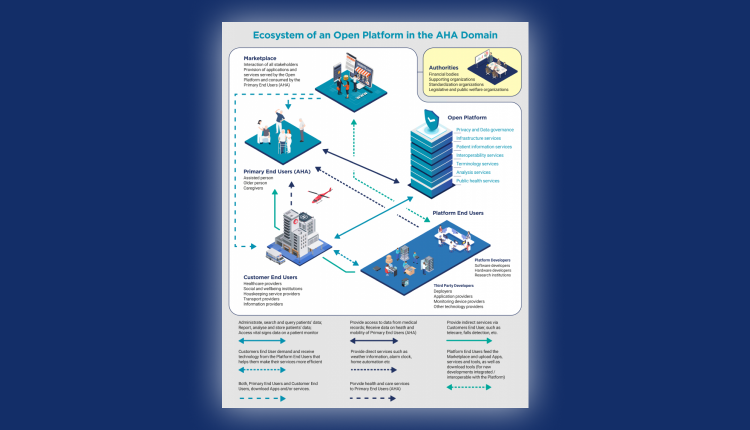 Overview of an open platform ecosystem
Platforms are just one piece of a complete ecosystem that comprises different stakeholders related to a domain. In the case of PlatformUptake.eu, focused on AHA, these stakeholders include developers, end users (older persons / assisted persons and caregivers), healthcare and other service providers as well as authorities/policymakers & other organisations.
This image provides an overview of the relations or interactions between these different stakeholders of the ecosystem among them, with the platform and with the marketplace, which is an entity belonging to the platform that is the one-stop-shop that manages the supply and demand of applications, services and tools of the platform.
Platforms are used by developers (so-called 'platform end users') to build AAL/AHA solutions that support or can be used directly by (older) persons and their informal caregivers ('primary end users') or by healthcare providers or other service organisations ('customer end users') in order to improve their services offering.
The older persons, assisted persons, carers are the main beneficiaries of the applications and services provided by the platform (either directly or through the healthcare service provider).
Moreover, the whole ecosystem of Open Platforms are also influenced by other external organisations or stakeholders (such as policymakers, public authorities, funding/financing institutions, standardisation bodies, and more) that regulate standards, legislations, and other issues relevant to the context of the ecosystem.
If you have any questions about how you, as a developer, user, service provider or authority, can use open platforms to develop AAL/AHA solutions, can access AAL/AHA solutions to support yourself (or a family member) in your daily life and activities, can procure or provide such solutions to your patients, customers or citizens, contact office@platformuptake.eu and we will keep you involved in upcoming PlatformUptake activities.