Aragon Satellite PoE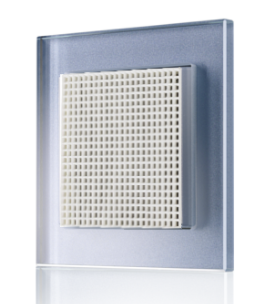 Use Cases
Security
Caregiver reporting
Home care
Caregiver notifications
Care
Accessible Housing
Technologies
Artificial Intelligence
IoT
Smart home sensors
Wireless transmitter
Smart sensing technology
Description
Aragon enables offline voice control from a flush mounted box. This device is compatible with most switch fronts in 55 x 55 mm, due to its compact size. Aragon supports these many functions:
Offline voice control with Snips
First AI based voice control device for home automation which fits in a flush mounted box
Connected through PoE
Visual programming with Node-RED
Works Plug&Play with the Smart Visu Server of JUNG
Works Plug&Play with the X1 and the Home Server of GIRA
Works with all IP/KNX gateways
Voice commands are only processed locally
Unrestricted vocabulary is learned dynamically via the AI of the software
Automatic reading of the system configuration of a server for visualization

Licence: One-time purchase 390.00 € ( 390.00 € excl. tax /// 468.00 € incl. tax)
Benefits
Offline voice control in a flush mounted box as an "extension" to the offline servers
First voice control device for home automation which fits in a flush mounted box
Compatible with all switch fronts in 55 x 55 mm
Connected through PoE
Voice commands are only processed locally
Unrestricted vocabulary is learned dynamically via the AI of the software
Automatic reading of the system configuration of a server for visualization
One of the following products is required to operate the Aragon Satellite PoE:

Aragon base PoE
Aragon base WL
realKNX Air
realKNX O-two
Click here for a tabular overview of the possible combinations

As soon as one of these servers is in the installation, Aragon configures automatically. Other Satellites can be used in other rooms. The only manual configuration to operate, is the room affiliation in which the Aragon Satellite is located.

The functionalities and technical data are provided on the Aragon Base page.

Aragon Satellite PoE is delivered without the frame but with the speaker grid, which is available in three colours, white, black and aluminium.
Impressions
Impressions